Editor's note: Brian Balster, of APT Ministries, recently trained 279 pastors and leaders in Kenya. Brian's report from that trip is provided below.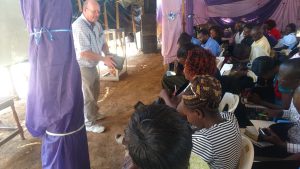 We saw so many pastors and church leaders encouraged and lifted through these workshops. I only wish that each of you could witness the joy that is expressed by our brothers and sisters at this time.
Requests for more workshops
I'm sure that I mentioned in the last emails that the call for more workshops in Kenya is so great. Everywhere we went I was faced with requests to bring the workshop to yet another location.  Even on the flight home, I sat beside a Kenyan couple who are in a pastoral care ministry in Nairobi. After hearing of the Thompson Workshops, they responded with the same request.
I don't have a firm number, but I would guess that at the present time I have more than 15 solid requests for the workshop. As I have said before, the workshops are limited to 100 pastors. That means that right now, without any more invitations, we can have an impact on 1500 pastors and church leaders.
Need for further training
The Thompson Bible Workshops are touching on a need in Kenya and Uganda that represents a void that is in the church there. The Gospel has been preached and so many have come to know the Lord as their Savior. I hear of hundreds of new churches that have been started in the last few years. The Lord has gifted and placed into these churches pastors and leaders who are serving Him faithfully. The need, however is that these pastors have little or no Biblical training or equipping. They have never been instructed on basic Bible study methods, how to prepare and outline, or even what is the purpose of preaching.
With the Thompson workshops, we cover these basic principles and even more, in a two and half day workshop. And at the end of the workshop, the pastors and church leaders are presented with a Thompson Chain Reference Bible. As I become more and more familiar with this great tool that is in the Thompson Bible, I am overwhelmed with just how helpful and valuable it is. I have had pastors come to me with tears in their eyes and thank me for such a training and the gift of the Thompson Bible.
Building the Church
I know that you have heard me say all of this many times before. But it is just great news that needs to be repeated. Jesus said,"I will build my church and the powers of hell will not conquer it." Everywhere that I have traveled in the last six years I have witnessed this taking place. Jesus also said, "Do you not say, 'There are yet four months, then comes the harvest?' Look, I tell you, lift up your eyes, and see that the fields are white for harvest." Oh, it is my prayer that the Lord will lift up those who will submit to His call on our lives and to serve Him in the way He calls.
It's my heart's desire to be in Kenya and Uganda as much as possible this year. The invitations to come are hard to ignore or deny. Yet at the deepest part of my heart, I desire to go where the Lord calls and to do what He asks. Please pray that the Lord makes His plan clear for me.
June plans for Nigeria
In June, a training session will be held in Nigeria for those who are instructors of the Thompson workshops. Chuck Ballard of APT Ministries has requested that I attend. This will put me in Africa, which means that I will have the opportunity to be in Kenya again for more Thompson workshops, possibly in early July.
Dependent on your prayers
If you have noticed in my emails I often use the word "we" in this ministry. I very much believe that this ministry is a "we" ministry. I know that on many of the trips only one plane ticket is purchased. However, when I travel I know that I am not alone. I rely on your prayers. I know that the Lord hears and responds to your prayers. I have had a true sense of His presence and power when I travel, teach, and preach. This is because His people are praying. My request for you is that you never stop praying for this ministry.