We present all workshop graduates with their own Thompson Study Bible. With it, they can continue to practice the study skills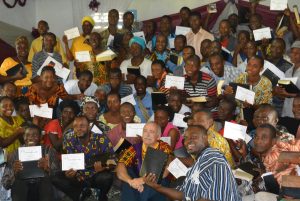 and message preparation methods they have learned during the APT training. Your gift of $25 covers the cost of providing one study bible to one pastor or church leader in Africa.
The Thompson Chain Reference Bible, with its many resources, becomes a cherished study tool for the pastor. It includes:
Over 100,000 topical references
Over 4,000 Chain Topics
Updated Archaeological Supplement with photos and maps
Outline studies for each book of the Bible
Journey maps and Bible harmonies
Biblical Atlas
Bible Book Outlines
Consider partnering with us to provide much needed Bibles in English and French. Your monthly gifts will have an eternal impact.